15.- Locomotoras Diesel (IV)
Tercer concurso en Renfe, las 319 bicabinas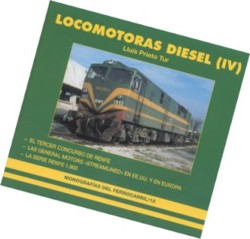 In this new book of the work DIESEL LOCOMOTIVES we treat the characteristics and the offers presented to that we name Renfe's Diesel The Third Contest of Locomotives. In this contest finally Renfe decided to acquire in a massive way the locomotives diesel necessary to confront the changes in the traction to steam that still they were hanging. The foreseen endowment was 120 locomotives diesel. In the resolution of the contest there turned out to be winning the American companies ALCO and for the first time, General Motors with 60 units each one. Of ALCO the series was born 2100, continuing of the series 1600 and 1800. Of General Motors the series was born 1900, a few locomotives derived from those of the mythical model F of the United States who with variants was constructed under license in Australia and in Europe adopting the aerodynamic aesthetics or original "Streamlined".
In spite of offering the same type of locomotive, Renfe prefer to adopt a variant of a model of exportation, type G-16 monocabin but with two cabins, which were still the aesthetic model of the ALCO 2100.
1900 of Renfe they were installed in València, location in which new facilities and workshops were enabled. València's endowment was busy with replacing the steam locomotives of the former lines of the company of the North (Almansa-València-Tarragona, Tarragona to Lleida, Saragossa to Lleida and Manresa, Saragossa to Elevated place of Ebro and Pamplona) and of the Head office of Aragon (València to Saragossa), besides other lines of the former MZA (line of Madrid to Alcazar, Albacete, Alacant, Murcia, Cartagena, etc).
With the advance of the electrifications the series continued distributing for other lines but every time to realize services of load and auxiliary. In the year 1992 the last units of the series stopped giving service and some of them were reformed taking advantage of some of his elements to form a part of the "new" series 319, but this already is another history that we will report in another future book of the collection.
Characteristics
Price: 28.25 €.
Date of publication: 2002
Language: Spanish
Nº of pages: 176
Author: Lluís Prieto i Tur
Size: 22 X 20 X 1 cm.
ISBN: 84-93-0930-4-1