34.- Locomotoras diesel VIII
Generación V200 Krauss-Maffei/Maybach
Serie Renfe 4000 (UIC 340)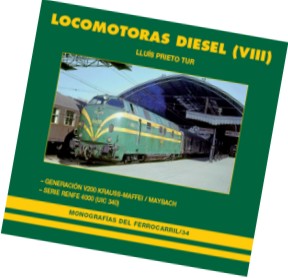 In the sixties Renfe , the acquisition of locomotives and diesel was a priority to remove steam traction in those lines that was not foreseen in the medium term electrification. The technology of American origin and the preponderance of models was beyond doubt. The facilities of the manufacturers to enter the railway market's contribution to the construction of these licensed contributed to the restructuring of the railway industry based on steam locomotives generally. Renfe deemed necessary for the acquisition of a large diesel locomotive power and autonomy of 4,000 hp. The main reason was the traction and quick to express non-electrified sections. Choosing the German Krauss- Maffei was an exception compared to the vast majority of American locomotives diesel line. The progress of electrification and massive influx of diesel locomotives were not in itself sufficient to modernize Renfe in the years of greatest need for movement of people and transport of bulk goods, the result of economic and social development of the 60s. During those years you could only reach about 2000 hP, so experience with Krauss Maffei Maybach or Voith hydraulic equipment could be relevant to what is required. It based on the German generation locomotives V200, over the years it became a situation of large numbers of faults, in teams of two diesel engines, two transmissions and other duplicates that were serving with only half locomotive operation, therefore all of precariousness in the maintenance of these locomotives needed exquisitely. Nevertheless, the 340 locomotives were a mythical, remembered by fans and rail, in a tumultuous time Renfe transition between steam, diesel and electrification. This book, one eighth of the work on deisel locomotives, continue with other types of locomotives with hydraulic transmission, particularly with Krauss-Maffei talgo you in this book only brief references are made.
Characteristics
Price: 26.00 €.
Date of publication: 05/2014
Language: Spanish
Nº of pages: 160
Author: Lluis Prieto Tur
Size: 22 X 20 X 1,8 cm.
ISBN: 978-84-937642-6-5