41.- Locomotoras Diesel (X)
- From Talgo III to pendular trains
- Series Renfe 2000T (UIC 352), 3000T (UIC 353), 354 and BT trains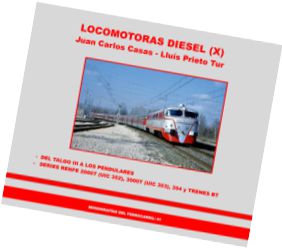 The Talgo II train, a model built in North America, during the years in which it remained in active service for Renfe offered limitations for its commercial exploitation. Therefore, it was logical that Patentes Talgo S.A. develop another type of train with which to achieve superior conditions in terms of speed, safety, comfort and capacity. The Talgo III was born in this way. And for these compositions were necessary locomotives, getting Krauss-Maffei / Maybach designs with remarkable performance, out of the ordinary, as in relation to their reliability indices. The locomotives 2000T, 3000T and 354 configured a special landscape within the services of Renfe, with a unique stamp from the decade of the 60s until the beginning of the 21st century. When trains with steam locomotives still circulated through the Renfe network, these fast locomotives with their silver trains were synonymous with quality services.
The locomotives and trains featured in this book were moved in their respective periods throughout the Iberian geography, including in one case a service to Portugal for a short period of time. At the international level, its presence in the "Catalan Talgo" service between Barcelona and Geneva was more impressive, a Talgo IIIRD for which the 3000T locomotives were divided on both sides of the Franco-Spanish border in Portbou, with wide bogies Iberian ones and of standard width the others. And then came the technical innovations with the Talgo Pendulares.
The present volume, continuation of the previous "Diesel Locomotives IX" dedicated to the Talgo I and II, intends to relate the history of these series of locomotives and their trains from several optics, from the exploitation to the technical description, going through an extensive chapter dedicated to the experiences of the railway workers who worked intensely with this material, Renfe machinists and Patentes Talgo SA personnel, who carried out with their professional effort a golden age in the history of Spanish railways, no doubt passed, surpassed by progress, but that the authors wish that it is not completely forgotten.
Characteristics
Price: 32 €.
Date of publication: 02/2018
Language: Spanish
Nº of pages: 296
Authors: Juan Carlos Casas, Lluís Prieto i Tur
Size: 22 X 20 X 1,8 cm.
ISBN: 978-84-944844-3-8