41.- Locomotoras Diesel (X)
- From Talgo III to pendular trains
- Series Renfe 2000T (UIC 352), 3000T (UIC 353), 354 and BT trains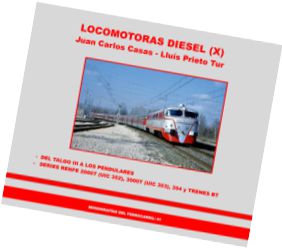 The tenth book of the series of diesel locomotives, within the Monographs collection of the railway, continues the description of the series of locomotives Talgo for almost exclusive tow of its trains. The diesel-hydraulic series 352, 353 and 354 are an exhaustive descriptive and historical study, which also has the recent series 355, driving heads of the two experimental branches Talgo BT. Full review not yet available.
Characteristics
Price: - €.
Date of publication: 11/2017
Language: Spanish
Nº of pages: -
Authors: Juan Carlos Casas, Lluís Prieto i Tur
Size: 22 X 20 X 1,8 cm.
ISBN: -