31.- American Diesel and Electric Locomotives in Europe
(With a summary in Spanish)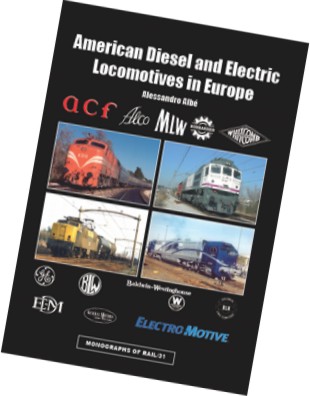 (Review by Juanjo Olaizola Eolrdi on his blog Historias del Tren): No doubt the decisive influence of American technology in the field of diesel traction in many European countries, including ours, where the vast majority of the locomotives of this type have been built in the United States or under license by various Spanish companies. In fact, today this domain is maintained to the extent that even locomotives manufactured in Spain with technology derived, in large part, of designs across the Atlantic are exported.
In the new book by Alessandro Albe, the reader can find an extensive collection of images of all kinds of European locomotives built in the United States or manufactured under license in our continent. Along with Spain, Portugal, Greece, France, Belgium, Ireland, Turkey, Britain, Sweden, Norway, Denmark and Luxembourg, counted on machines of American technology and what may be more surprising, despite the Cold War, also they had with them the Eastern bloc countries such as Romania or Hungary. The book also devotes an interesting section to locomotives built in Europe under license from various American manufacturers exported to other continents.
In its 160 pages American Diesel and Electric Locomotives in Europe presents a comprehensive collection of photographs that represented all types of diesel and electric American technology that have circulated in Europe locomotives. However, the work of Alessandro Albe not limited to give the reader a photo album with full feet descriptive, but also includes interesting historical facts about the origins and evolution of these machines in our continent, and comprehensive tables in which all are collected and each of the various series of American locomotives that have circulated in European railways. With the book by Alessandro Albé, Lluis Prieto contributes to disclose an essential chapter in the modernization of European railways after the Second World War, whose consequences are still being felt in Spain and in much of Europe. In short, American Diesel and Electric Locomotives in Europe is a reference work not only for scholars of the railroad in our country but throughout the continent.
Characteristics
Price: 34.00 €.
Date of publication: 02/2013
Language: English with a summary in Spanish
Nº of pages: 160
Authors: Alessandro Albé
Size: 27 X 21 X 2 cm.
ISBN: 978-84-937642-3-4