38.- Locomotoras Diesel (IX)
- Trenes articulados: Los Talgo/ACF en Norteamérica
- El Talgo II y la serie Renfe 1T-4T (UIC 350)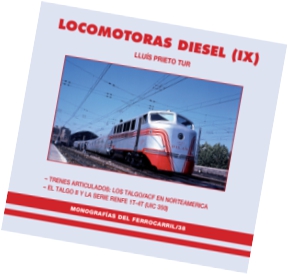 The ninth volume of the series of diesel locomotives is introduced into the world Talgo. Traction most peculiar and unique in the world, of Spanish origin, this train is taking its first locomotives, the one 4T, which ended numbering in the 350 series Renfe.
Talgo history begins with the development of its most prominent engineer Alejandro Goicoechea, and his meeting with the financial capacity of the Oriol family. Once it founded the company Patentes Talgo, the book describes his first train Talgo Train Oruga or I. The financial and political situation of Europe with wars led the company to seek development of its trains in the United States. There, with the collaboration of the American Car Foundry (ACF) they created the second generation of Talgo, which was subsequently circulated by Spain.
The fundamentals of Talgo rolling system with guided independent tread, low center of gravity and construction with lightweight materials like aluminum extrusion were taken by the builders of American trains with different prototypes. Thus, the book tells the existence of the Talgo 1949 and 1955, talgo Jet Rocket, those of the New Heaven and Boston and Maine, the Train X and other companies. New Heaven Talgo final is also related in the Spanish railroad of Langreo in Asturias. Rounding out the chapter of contemporary philosophy trains in the United States and Germany, where he also experimented with light rail, the Aerotrain or turbotrain for example.
And focused on Spain, travel and demonstration tests are described, and later commercial service until its withdrawal from service of the Talgo II branches. Also the complete technical description of its locomotives to the preservation of the vehicles of this generation Talgo.
Characteristics
Price: 26.00 €.
Date of publication: 2015
Language: Spanish
Nº of pages: 168
Authors: Lluís Prieto i Tur
Size: 22 X 20 X 1,8 cm.
ISBN: 978-84-944844-0-7