20.- El Ferrocarril Villalba - Berrocal
(Sold Out)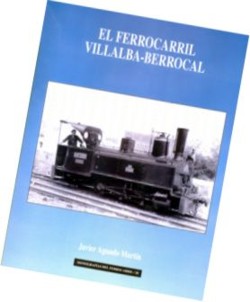 For years, the fans of the Spanish railroad had few opportunities and means for the knowledge of the lines and rolling stock of our country.
Lucky, the bold efforts of many of them for our railway patrimony knew and to make come to the public (generally little valued Efforts, when not completely ignored) have given place to the appearance of a railway culture and to the takeoff of the publications on railroads in our country, supported by institutions, associations and publishers firmly involved in the spreading of this patrimony, so much regarding the treatment and study of the rolling stock as to the knowledge of the different lines from the historical point of view.
Nevertheless, and in spite of the multiple contributions of these pioneers, still there exists a plot of the Spanish railroad little explored up to the date: The industrial railroad history.
The line Villalba - Berrocal stays involved in it, for what this book comes to relieve partly this situation: it is not a question of the habitual photographic book, but it penetrates into the origins and history of the line without forgetting, clear it is, his rolling stock.
It is a singular contribution to the railway Spanish literature, since in this line several peculiar circumstances come together, since it are his track gauge, his activity or the fact of having being exploited by a great company as that of the North and later by Renfe, constituting for his characteristics the only case in both administrations.
Characteristics
Price: 26.00 €.
Date of publication: 2005
Language: Spanish
Nº of pages: 192
Author: Javier Aguado Martín.
Size: 27 X 21 X 1 cm.
ISBN: 84-931318-1-4
(SOLD OUT)