29.- El Ferrocarril de Torralba a Soria y Castejón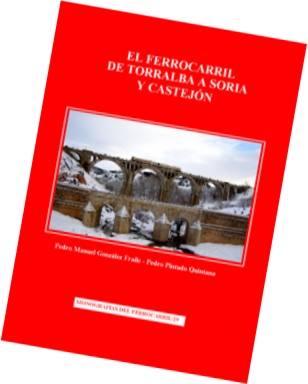 The Railway Torralba Soria and subsequent extension to Castejón was a small company remained independent until Renfe integration. However, in its origin and end, and twice along its route, linking with lines MZA, Mediterranean and North Santander.
Opened in 1892 the section between Torralba and Soria, the railroad was always in deficit, in part a consequence of human poverty and low population density that recorreo land, and partly because the original lack of continuity of the line from Soria to Castejón. Surante construction of this first section is made ??expansion projects that were not successful, although work began to Castejón, very slowed down, which resulted after several delays, problems and the presence of the Civil War, which was not open this section until 1941, and with the presence of Renfe.
The lack of investment, and consequently traffic began ballasting the line profitability, closed just this section Castejón Soria in 1996, although administrative peculiarities line remained open but unsafe for trains to run from 0 to 24 hours. At least Torralba stretch Soria received since 2007 the investment required for the improvement of infrastructure and superstructure that do survive to the line until the moment a hypothetical high-speed antenna reaches Soria capital.
The book relates the different situations of stations and station Soria common and variant and new station at Torralba regarding the meager starting. They are also the ratio accommodate traffic and material characteristics of the layout, singular points, related buildings, stations and railway operations, culminating in a color photographic Annex.
Characteristics
Price: 30.00 €.
Date of publication: 11/2010
Language: Spanish
Nº of pages: 224
Authors: Pedro Manuel González Fraile, Pedro Pintado Quintana
Size: 27 X 21 X 2 cm.
ISBN: 978-84-937642-1-0